PROGRESS IN PROGRESS!
Exciting News: We're delighted to update you on our commitment to enhancing your future stays. Our journey to elevate the hotel experience continues with the opening of the east wing, featuring new rooms in November 2023. Meanwhile, construction in the west wing will proceed until mid-March 2024, We expect very minimal disruptions going forward as there is a significant separation between the East & West Wings.
Key details for your convenience:
Construction Hours: Weekdays, 9 am to 4 pm; no construction on weekends.
Elevator Service: One elevator temporarily unavailable from 9 am to 4 pm on weekdays; second elevator and stairs are available.
Your comfort is our priority, and we appreciate your understanding and support during this transformative phase. For reservation concerns, contact us at 02 9285 6200. Thank you for being part of our journey—we look forward to unveiling an enhanced experience for you.
Sincerely,
Management – Song Hotel
Song Hotel Sydney – When location matters!
---
Deluxe Rooms
Stylish en-suite rooms with sound proof windows. USB port connectivity, FREE wifi, Smart TV, LED Clock Radio, Minibar Fridge, In-Room Safe, Tea & Coffee.
* Roll away bed options have an extra fee & are subject to availability.


Introducing our Theme Rooms
"We're so proud to dedicate 9 of our hotel rooms to inspirational Aussie women whose work aligns with our mission."
The unique hotel rooms are as follows:
Or call us +61 2 9285 6200 to book one of our theme rooms.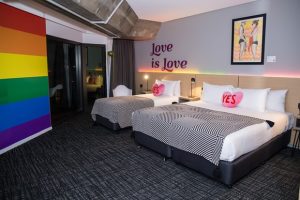 Stay 2 or more nights & receive 10% discount.
Book at least 14 days in advance.
---