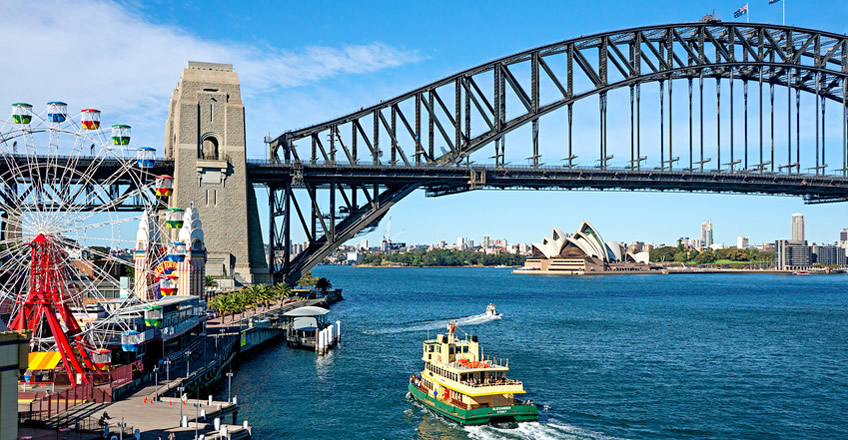 The Bridge, the Harbour, the Opera House. Photo: Ethan Rohloff; Destination NSW
Is Sydney the greatest city in the world? Come and visit and decide for yourself.
Walk its streets, experience its attractions, feel its laid-back vibe, drink in its pubs, dance in its clubs, chill in its cafes and browse its trendy shops.
Living life to the fullest is what Sydney is all about.
There's something about the glistening harbour, the wonderful weather and the city lights.
Once cheap nfl jerseys you've tasted it, we guarantee you'll want more.
There's a vitality here and a unique, lively feel.
It's the harbour city, the sunny city, the beach city, the stylish city.
A sense of being alive runs through the city's veins. There's a delight to life here.
Sydney knows how to party. New Year's Eve and Australia Day celebrations prove that, not to mention most weekends.
The Harbour Bridge and Opera House, of course, express the city's essence.
The Rocks, Circular Quay and the Botanic Gardens are must-see places.
And don't hesitate to take a harbour cruise and experience a waterfront restaurant or cafe.
Walking the streets, you might notice the colonial and modern architecture that reflect the city's past and present.
But if buildings don't move you, the coastline just might.
Beyond the city, some of the world's most iconic beaches and seaside suburbs hum and thrum with life. Bondi, Coogee and Manly define Sydney.
If nature's your thing, Sydney and its surrounds are most definitely not all concrete. National parks are within easy reach.
For culture vultures, the city's art and music scenes buzz with creativity.
And for trendy types, there's fashionable Paddington, bohemian Newtown and hip Glebe.
Reasonably priced meals are never far away in Sydney. There's dozens of flavours to be found. Chinatown, of course, is a popular place. Or, you might fancy something else like Korean, Malaysian or Latin American. If you want good pizza, it's not hard to find.
It can't be denied that Sydney's glorious weather lies at the heart of its appeal.
In summer, cheap jerseys nfl everybody knows its nice and hot. In winter, sometimes it gets a bit nippy.
Autumn and spring, you might say, produce "Goldilocks weather" – not too hot, not too cold, but perfect.
Sydneysiders don't like to boast, but "perfect" is a pretty accurate way to describe this magnificent city.
Check out www.sydney.com.