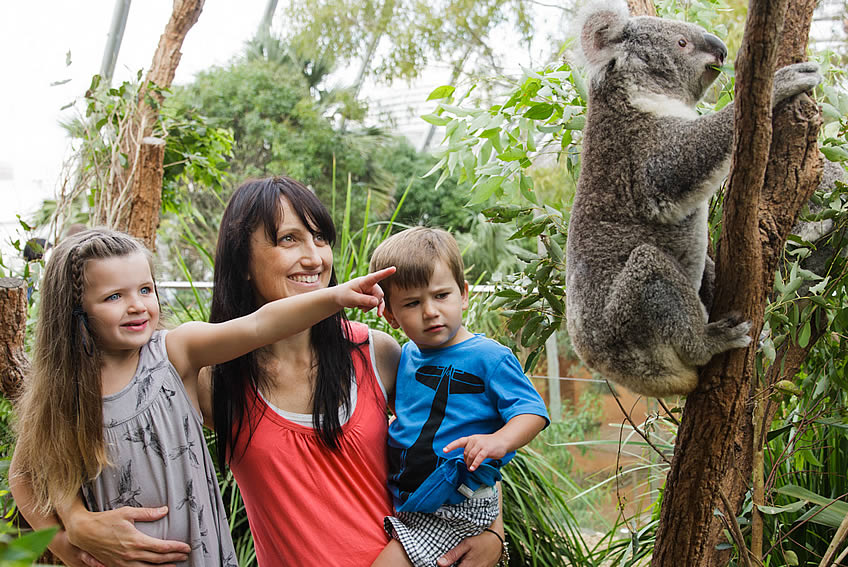 Looking for a place to take the kids in Sydney? Check out these four must-see places.
Wild Life Sydney Zoo
There's cuddly koalas, beautiful butterflies and cute wallabies.
And don't forget the crocodile, spiders and snakes.
You can see all these creatures at the Wild Life Sydney Zoo at Darling Harbour.
If you're looking for kids' attractions and family fun in Sydney, this is the place.
You can cuddle a fluffy koala and get a photo of the experience. How cute!
This special experience happens at the "Koala Rooftop" – a place with superb views. It's an amazing feeling being within a nature sanctuary with skyscrapers around you.
Before you get to the rooftop, there's plenty of other attractions to check out.
There's a butterfly enclosure with an average temperature of 33 degrees Celsius.
Don't miss the "Wallaby Cliffs", an enclosure that is home to Ringo the baby wombat and Bluey the yellow-footed rock wallaby.
You'll find Princess the cassowary in a rainforest area, along with a family of pademelons, a forest dragon, carpet python and river turtle.
Park favourites include Rex the five-metre crocodile and endangered Tasmanian Devils.
This is undoubtedly one of the best tourist attractions in Sydney.
Madame Tussauds
Get close and personal nba jersey authentic with Brad Pitt, Angelina Jolie, Leonardo DiCaprio, Johnny Depp and Lady Gaga.
Yep, it's the A-list and you can see them all in Sydney.
They're the star attractions at Madame Tussauds wax museum at Darling Harbour.
This is "family fun Sydney" at its best.
As for kids' attractions, there's plenty here.
Along with movie stars, there's superheroes and celebrities from sport, music and TV.
Aussies on display include Kylie Minogue, Nicole Kidman, Keith Urban and Don Bradman.
Even Harold Bishop from Neighbours and Alf Stewart from Home and Away get a run. Streuth!
Mum and dad will love the place and they might even like the historic figures and world leaders.
You'll be amazed that this place can be a bit emotional. You'll laugh and you might even cry.
Sea Life Sydney Aquarium
Aquariums are great places to take the kids.
The looks on their faces say it all.
It must be the mesmerising nature of magical marine creatures gliding through water.
The colours, the light, the big tanks – it's a world of discovery.
Basically, it's a place to look at cool things.
Plenty of this good stuff is on show at Sea Life Sydney Aquarium at Darling Harbour.
There's sharks, dugongs, platypus, turtles and seahorses – not to mention the pretty coloured fish.
The Great Barrier Reef display is a must see. This massive exhibit contains about 2 million litres of water.
Vibrant fish zip among coral formations, amid an abundance of life.
It's captivating stuff, especially when you see it from a place called the "Reef Theatre", which is a big "oceanarium" with a floor-to-ceiling window.
Aquariums are a fascinating world and a great kids' attraction.
Luna Park
Do you want a bit of hair-raising family fun in Sydney?
Look no further than Luna Park.
This is the place for thrills and laughter, right next to one of Sydney's greatest landmarks – the Harbour Bridge.
Like any good fun park there's dodgems, a ferris wheel, roller coaster, funhouse, magic castle, sideshow alley, slides and a mirror maze.
The rides include Whirly Wheel, Barrels of Fun, Tumble Bug, Space Shuttle, Wonky Walk and Devil's Drop.
Fun-park rides are all about fear and excitement. It's those heart-pounding, nerve-tingling feelings you get, with the zip, dip, rattle and roar of the rides.
They make us feel alive!
It's a carnival atmosphere, with colour, terror, laughter and love.
There's the smell of fairy floss and popcorn and the neon at night.
Best of Reed Jordan jersey authentic all, it's a great place to see smiles on kids' faces.
To get there, take a ferry ride across the harbour from Circular Quay.
By Jay Chabon