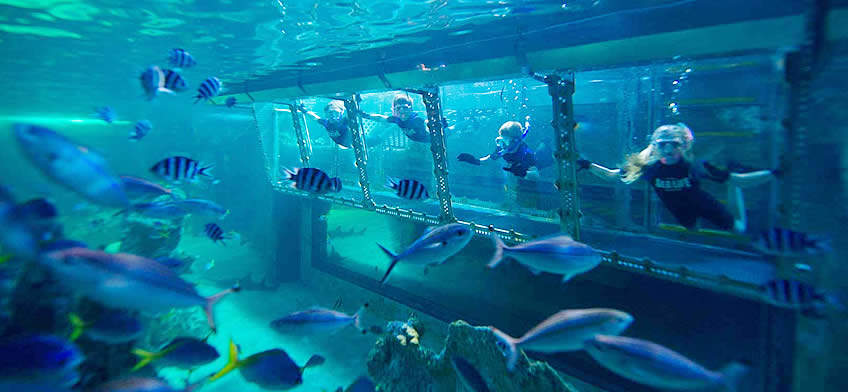 It's thrilling and it's fun. And believe it or not, it's safe.
The shark reef snorkel at Sydney's Sea Life Aquarium sounds dangerous, but mum need not worry. It's actually a safe environment, something the kids could easily do. Something you could do, too.
You'll come face-to-face with sharks, sawfish and tropical fish, but behind a glass enclosure. You'll feel like you're swimming at the Great Barrier Reef.
This is one for those kids who love water and marine life.
---
Enter an erotic and sensual world while cruising Sydney Harbour aboard an 1850s tall ship.
They call it a "ship tease with a light harbour breeze". Sounds a bit naughty!
As the ship leaves the shore, your inhibitions might just sail away with it.
After a drink or two, you'll be ready for a giggle.
Just picture this: As the city lights sparkle in the distance, you'll drift away from ordinary life for a little while.
If burlesque ain't your thing, take a lunch or dinner cruise on a tall ship instead.
All aboard!
---
Get some wind in your hair, as you chug through the most glorious harbour in the world.
It's true, we like to boast about Sydney. We can't help it. We love it.
Of all the Sydney tourist attractions, this is a favourite.
You'll see the sparkling city skyline, the historic The Rocks, the Opera House,Harbour Bridge and some of Sydney's hottest property along the way.
That's all before you get to Manly, where you can take in the best of the Aussie coastal lifestyle. It's the coast with the most!
---
Catch a Sydney Roosters-South Sydney Rabbitohs game at Allianz Stadium
This is the biggest fixture of the footy season (apart from the finals, of course). It's a chance to see Sydney sport at its best.
If you're a fan of the round-ball game, get tickets to a Sydney FC-Western Sydney Wanderers match at Allianz Stadium. It'll leave you feeling like you've just been to a top European soccer match.
The atmosphere is enthralling and the fans' passion will leave you in awe. And you'll keep hubby happy!
---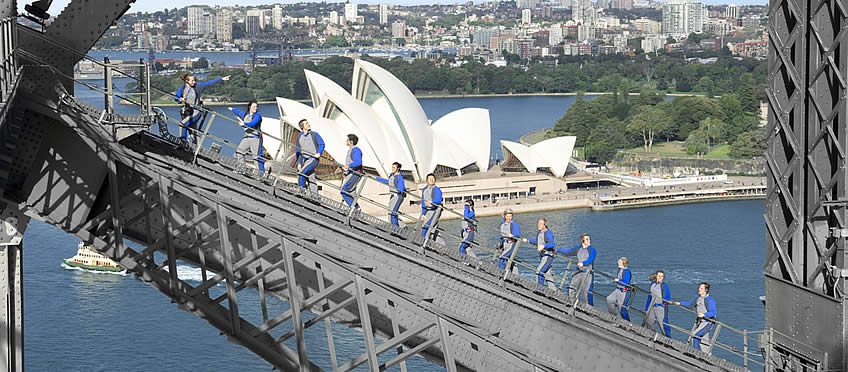 They say it's the climb of your life. We wholeheartedly agree.
If you're afraid of heights, face your fears. It'll be worth it.
Get to the top and you'll feel the real Australia.
You'll smile with joy, beam with pride and you might even shed a tear.
This climb is a whole lot better than you could imagine. You'll be surprised.
---
If you want to blow your mind at the movies, the IMAX Theatre at Darling Harbour is the place to go.
This is no ordinary cinema.
In a world of small screens, it's a bit of a novelty to experience what's touted as the "world's biggest screen".
You don't so much see an IMAX movie, as feel it.
Its "unsurpassed brightness and clarity" and "unparalleled image and sound quality" will take you to another world.
---
Relax, rejuvenate, revive, recharge. Ahh, yes please.
Find yourself a little city sanctuary and treat yourself to a serene massage.
There's plenty of day spas or massage parlours around town.
There's nothing like walking off a busy city street into a quiet place and releasing some tension slowly from your muscles and mind. We're feeling better already!
These places will set you right: