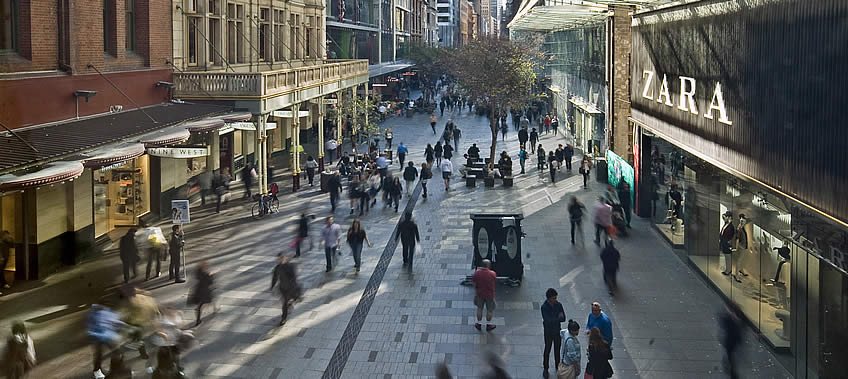 Strolling through open-air Pitt Street Mall with its bustling crowds and infinite shopfronts is just what Sydney CBD shopping is all about.
It's one of the best places in Sydney for designer brands and European labels.
Head to David Jones for a real upmarket shopping experience.
The Elizabeth Street store has served Sydney's finest since 1927, and from the moment you step through the stately doors and tread the marble stairs, you feel the hum of a grand department store.
Go to the beauty section for product exclusives in Philosophy and Nails Inc., or just gawp at the ridiculously huge OPI nail polish selection!
The food hall is the perfect place to refuel and indulge those foodie cravings, with a variety of places to eat, including an oyster bar and a wine tasting room.
Stock up on gourmet goodies, or indulge a Yankee craving with American imports such as pumpkin pie filling, pop tarts and Frank's hot sauce.
Be sure to stroll through the Strand Arcade – not just for the bevy of Australian designers and Sydney institutions such as Strand Hatters – the Victorian architecture is a sight to behold.
---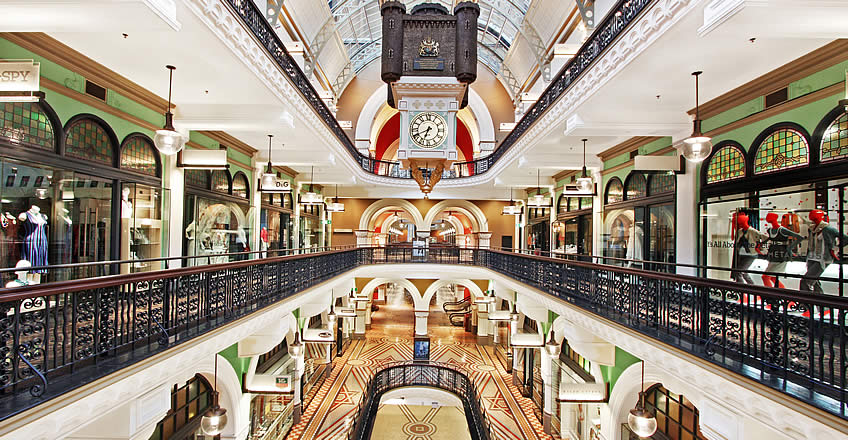 Another architectural beauty with high-end fashion to compliment, QVB has everything from A to Z, from arts and antiques to Zumbo Patisserie.
Taste the legendary zumbarons and a zonut… or two!
HobbyCo toy store is great for present shopping, and Victoria's Basement is a go-to for discounted upmarket homewares.
---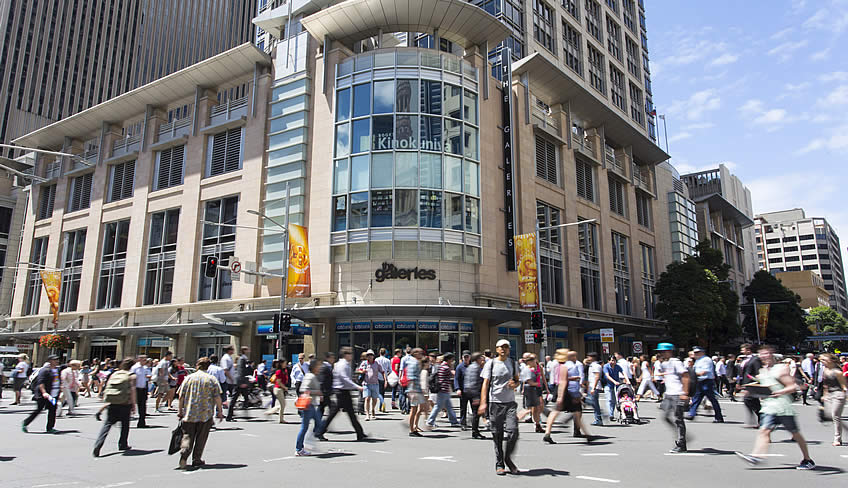 A destination for fashion, art and music, The Galeries is also the base for cult homewares, clothing and beauty store Muji, often referred to as the Ikea of Japan.
You can buy an oil burner, pots and pans, slippers, ear muffs and a coat, all in one store!
Another highlight: Kinokuniya bookstore, offering a very large selection of Japanese books, magazines and comics including manga and anime. You can get lost in this place.
---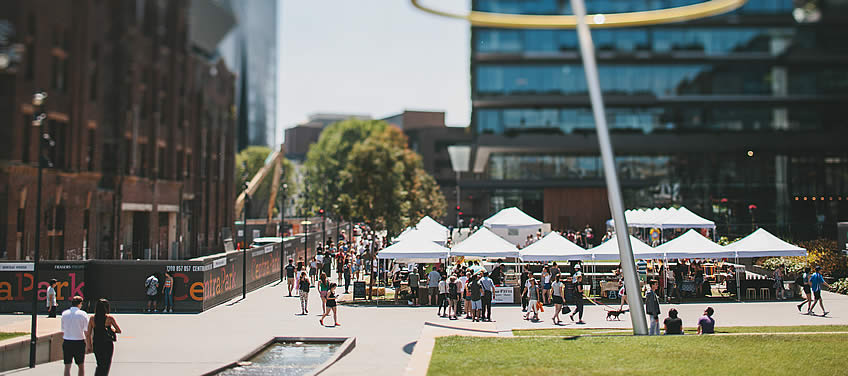 An urban village with a great mix of stores, from the eclectic Pigeonhole selling homewares, clothing and accessories, to Blush Cosmetics, stockists of cult Asian beauty brands, and Daiso, where everything costs $2-$10.
---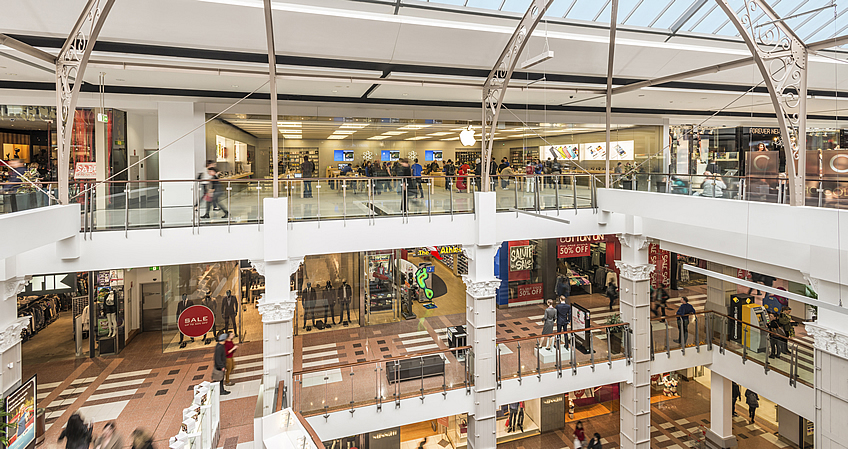 Chinatown to Chippendale
Soak up Asian street culture in Chinatown and Haymarket while checking out the quirky gift shops, bargain stores and Asian supermarkets.
Head to Broadway Shopping Centre for Aussie fit wear, PJs and women's wear in Lorna Jane, Peter Alexander and Sportsgirl, or Hype DC for all things shoes.
---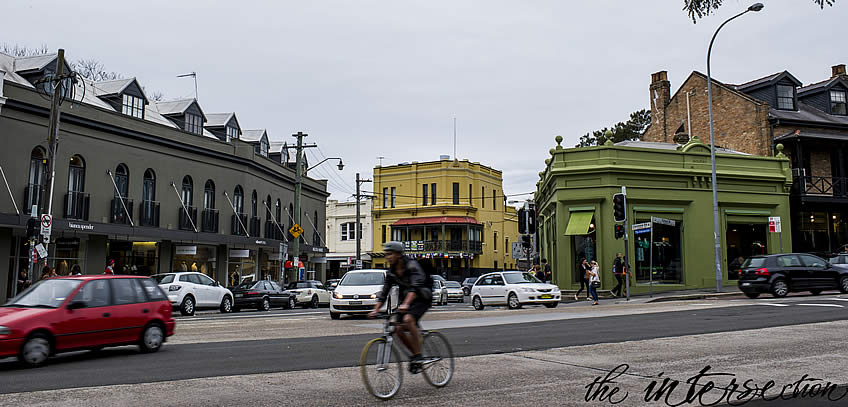 This strip of edgy boutiques and up-and-coming Australian designers prides itself on individuality, aiming to bring a sense of occasion and fun back into shopping.
Style, celebs, great places to eat and watch – what more could a dedicated shopper want!
---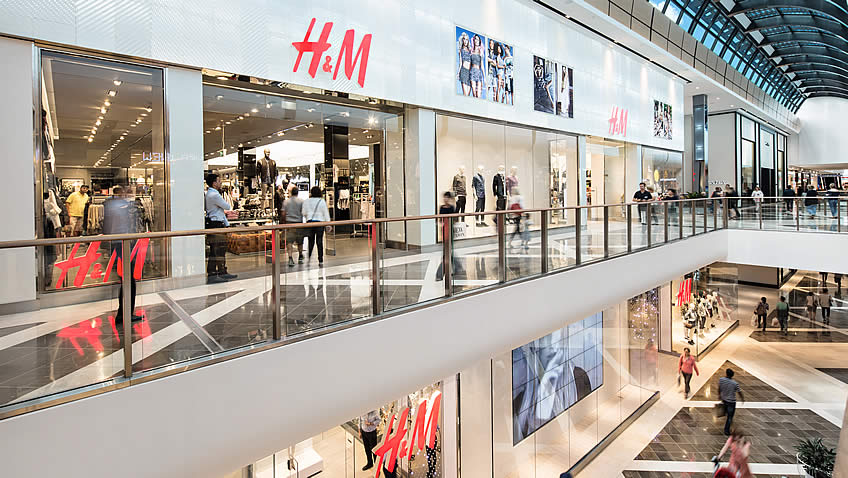 A short train ride from the city to the north side is the newly re-launched Macquarie Centre.
A go-to for the latest in fashion, food and lifestyle, it's home to Sydney's first H&M store, so popular that it attracted queues just to get in for several weeks after opening.
Forever 21 opened its first Sydney store here, and there's many more international high-street fashion brands, Australian designers, quirky eateries and cinemas.
At more than 138,000 square metres, Macquarie Centre is one of the largest suburban Sydney shopping centres.
Where do you go to shop till you drop? Tell us in the comments below.