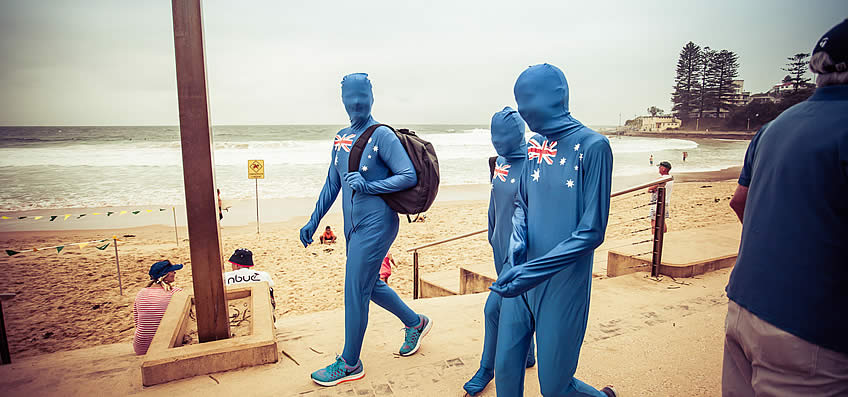 Sitting back by the harbour, a day at the beach or a fun-filled family outing – it's how we Aussies love to spend our leisure time.
So it's no surprise that when considering what to do in Sydney on Australia Day 2016, the powers that be have these considerations in mind.
With the January 26 public holiday falling on a Tuesday in 2016, stay for an extra-long weekend at Y Hotels and celebrate our national day with some awesome free Sydney activities.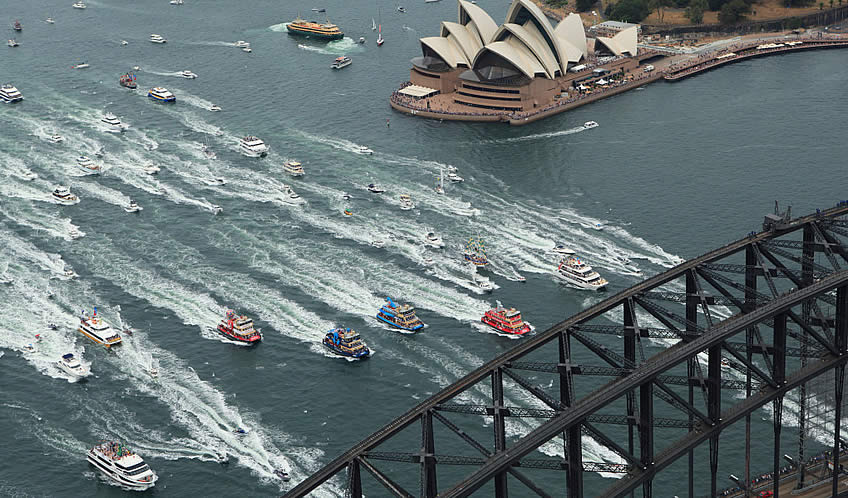 Apart from providing a great celebratory backdrop – "the world's most beautiful harbour turns it on for Australia Day" as the Australia Day Council of NSW puts it – the harbour is where this whole Australia Day shindig started, with the tall ships of the First Fleet landing in Sydney.
In 2016, tall ships are still around, and will be racing for the amusement of spectators, while yachts and tugboats indulge in a bit of ballet (those tugs have learnt more than a few smooth moves guiding mammoth ships in an out of the harbour).
In other on-water action: floating stages will accommodate song and dance to the tune of everything but the kitchen sink (seriously, we're talking plastic buckets, kitchen utensils and angle grinders as instruments): 1000-plus swimmers will dive off near the Opera House for an open-water swim; and patriotic Aussies will sing the national anthem to the tune of a 21gun salute from a navy ship.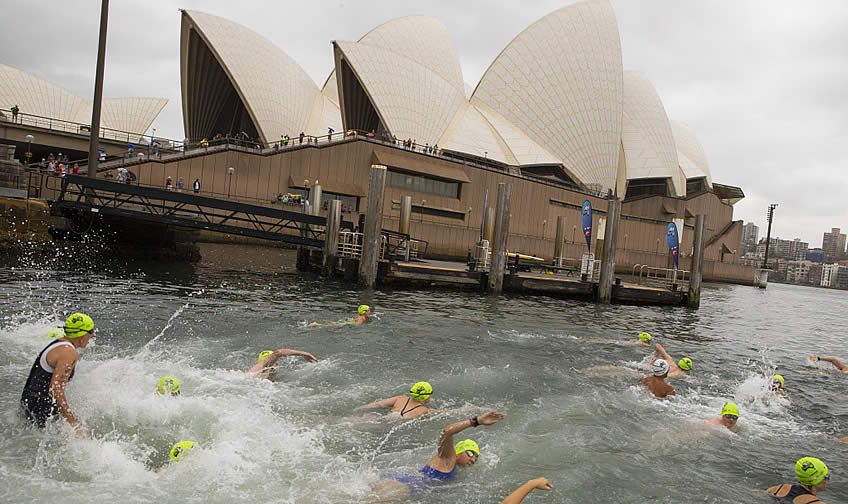 Plus there'll be plenty of flags flying and green and gold glistening on ships of all shapes and sizes, plus indigenous ceremonies acknowledging Australia's traditional landowners.
---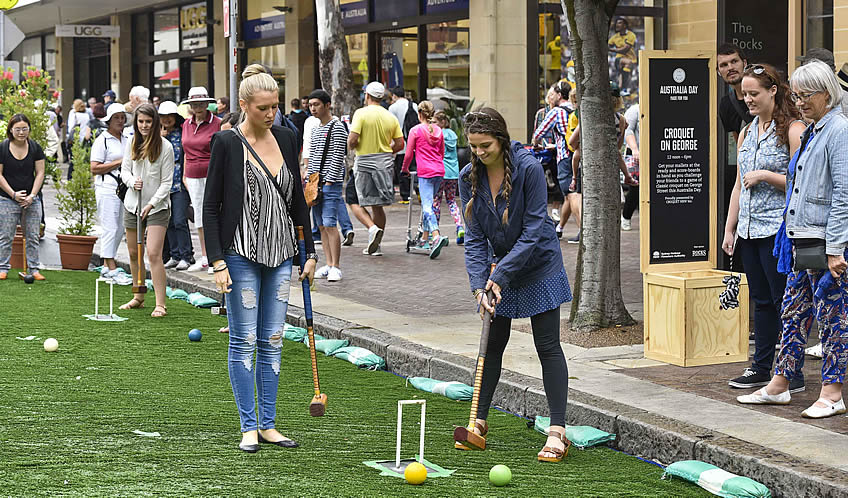 Croquet anyone?
While cricket is generally considered the national game come summer, at The Rocks it's all about croquet on Australia Day.
Have a hit on the lawn, listen to the free live music playing all afternoon, or party on to the Triple J Hottest 100 countdown.
Plus The Rocks Markets will be in full swing as part of the Australia Day celebrations.
---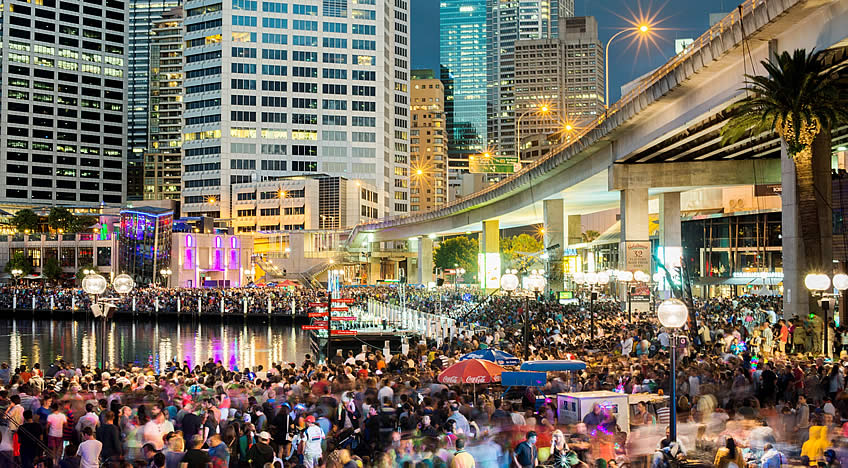 This place is always abuzz, none more so than on January 26, billed as one of the biggest days of the year for crowds that come to enjoy a day of music, dance and children's entertainment.
After checking out the harbour-side shows and roving performances (look out for the bouncing kangaroos, giant seagulls and stilt walkers) enjoy some refreshments at one of the many restaurants, clubs and cafes, or come pre-prepared with a picnic.
The spectacular evening finale will feature ceremony, Sneaky Sound System and Australia Day fireworks.
---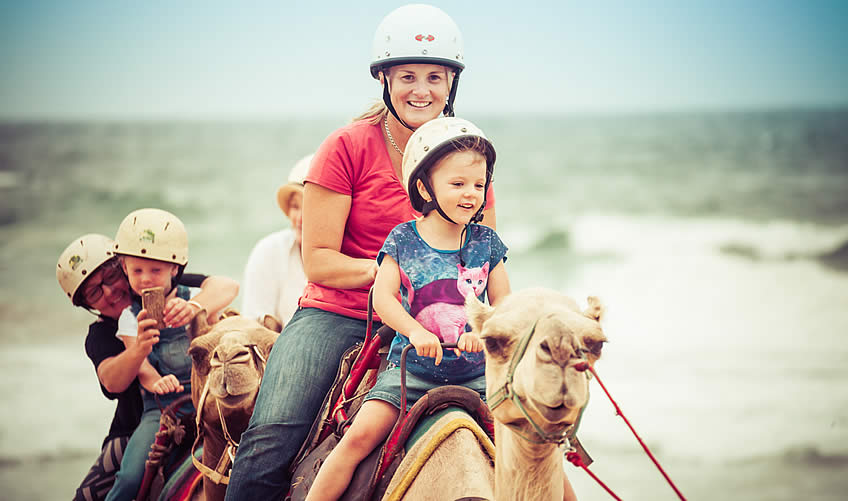 The beach
What could be more Australian than a day at the beach?
Not to mention a barbecue breakfast and a thong throwing competition.
Warringah Council will be honouring the Aussie spirit at Dee Why Beach and Narrabeen Lagoon (on Sydney's spectacular northern beaches) with these and other super-cool activities including giant water slides, camel rides and face painting.
Over on the eastern beaches, Randwick City Council is transforming Coogee into a family-friendly water park with inflatable amusements, while at Little Bay punters can learn to bush dance or pat a native reptile.
---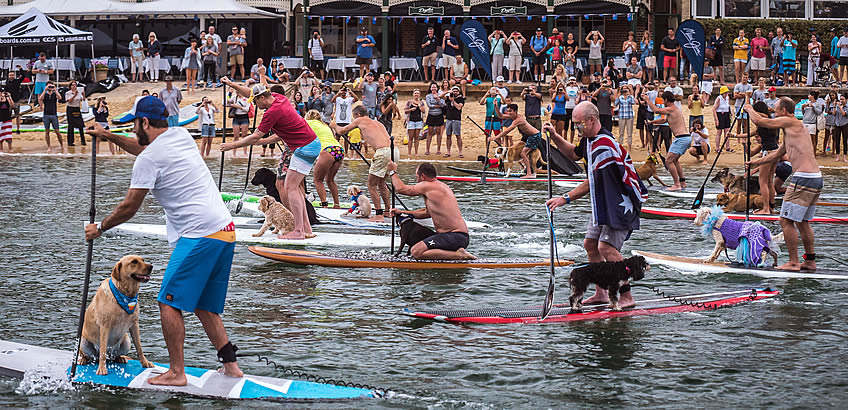 Every Man and His Dog will be at Watsons Bay come January 26 – for a stand up paddling event of that very name.
But expect a crowd too.
Who wouldn't flock to see pets and their owners on paddle boards, having a friendly race.
Dressing up and having fun is highly encouraged.
We're talking cute puppies in Australian-flag bow ties!
This event is not only for SUP athletes.
Local families and visitors have a chance to compete in the more basic SUP courses and individuals with their dogs who participate in the iconic novelty, man and dog races.
This is an event for all Australians (including their pooches)!"
Watsons Bay is also a beautiful spot for a swim, coastal walk, picnic or meal at Doyle's or Watsons Bay Boutique Hotel.
---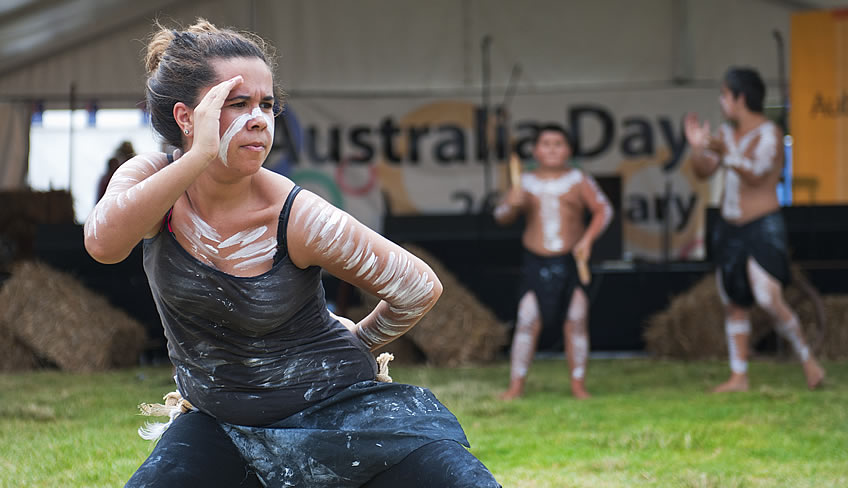 Spend the day in Cathy Freeman Park, aptly named after the nationally-treasured athlete, at Sydney Olympic Park, where she completed her gold medal-winning sprint during the 2000 Olympics.
Park Authority and Auburn City Council are putting on family-friendly activities, including carnival rides, sports clinics, animal farms and art and craft, plus entertainment and fireworks.
The international food flavours and multicultural music are a nod to the cultural melting pot that makes up this great southern land.
How will you celebrate Australia Day? Tell us in the comments section below.