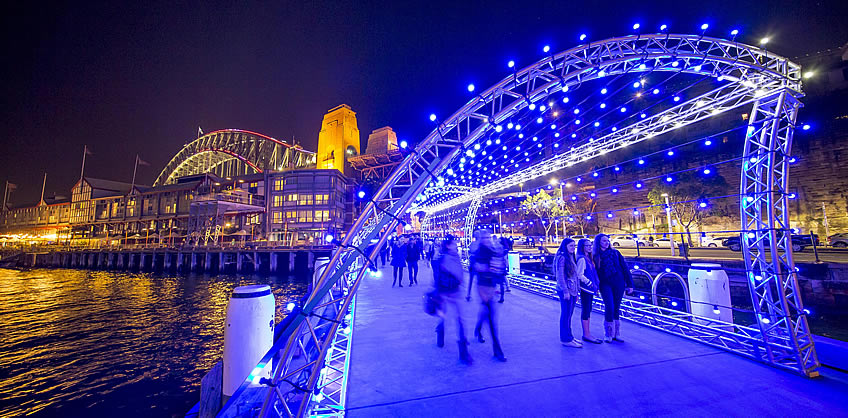 The magical Vivid Sydney, which brings fab lights, music and ideas to the city, is approaching its biggest run yet.
The extravaganza – extended to 23 nights this year – includes all manner of awe-inspiring installations and events.
We've told you why it's going to bigger, better and brighter this year (check out our Viva la Vivid: What's to love about the 2016 Sydney light festival post).
But what if you don't have the luxury of an extended stay in Sydney for the May 27 to June 18 festival?
A weekend (staying at the central to Vivid Y Hotels) is the perfect way to experience a superb snapshot of the show. Your 48 hours starts now…
Day 1 – Friday or Saturday night
Martin Place
If you're here on a Friday night you'll feel the buzz of the after-work crowd winding down from a week at the office and revving up for the weekend ahead.
There's reason aplenty to stick around after five once Vivid lights up.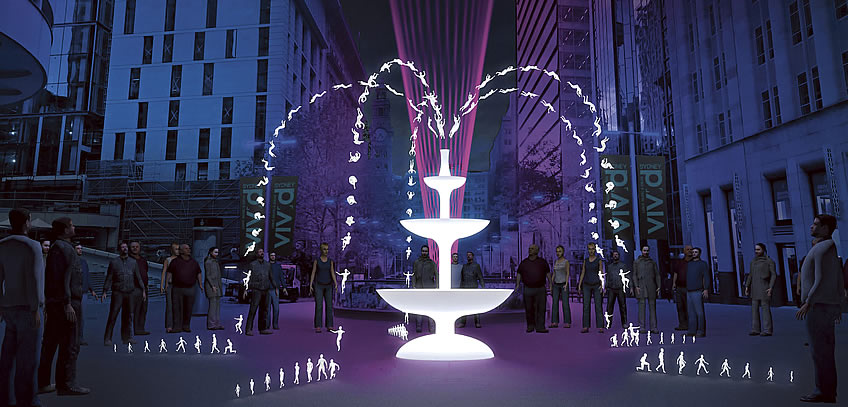 6pm

:
Get to Martin Place in time to watch the lights go on for two larger-than-life Vivid installations.
More than just a pretty piece of glowing art, Fountain is a commentary on life, specifically the world's expanding population (headed towards a whopping 7.4 billion humans in 2016).
This installation crunches the numbers with "human water droplets" representing the number of people around the globe.
A far cry from dry data, instead these "water humans" shoot skywards from the fountain's jets, float to the ground and walk off into the distance.
It's all about creating a symbol for the continuous flow of life – deep on one level, plain cool to watch on another!
Check out the Mountain of Light here too, and have a go at some Vivid choreography yourself.
Each column of the four-metre high geometric installation is packed with computerised graphics that visitors can control to show colour patterns running from one side, across, around, down and up the mountain.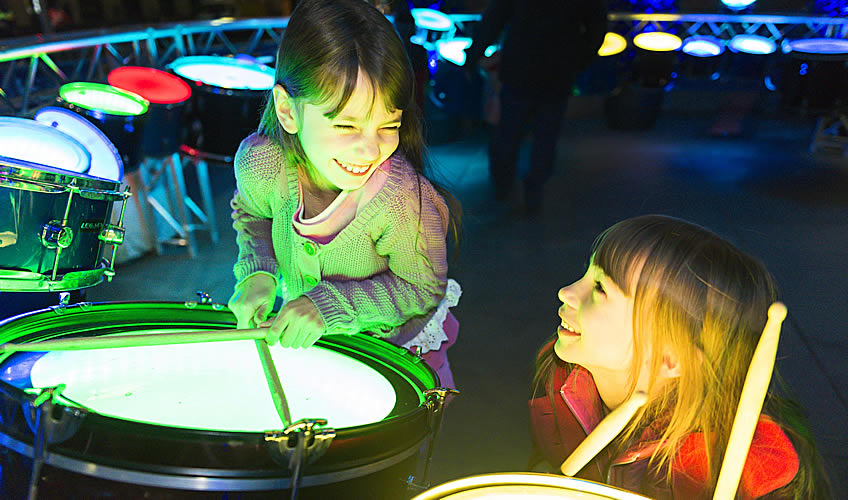 6.30pm

:
Head to GPO Grand at No.1 Martin Place.
The gorgeous historic building turned hip hospitality precinct offers a host of bars and restaurants from which to enjoy drinks and a bite to eat.
8pm

:
Catch a train to Central and the next stop on your Vivid weekend tour is a five minute walk away…
Central Park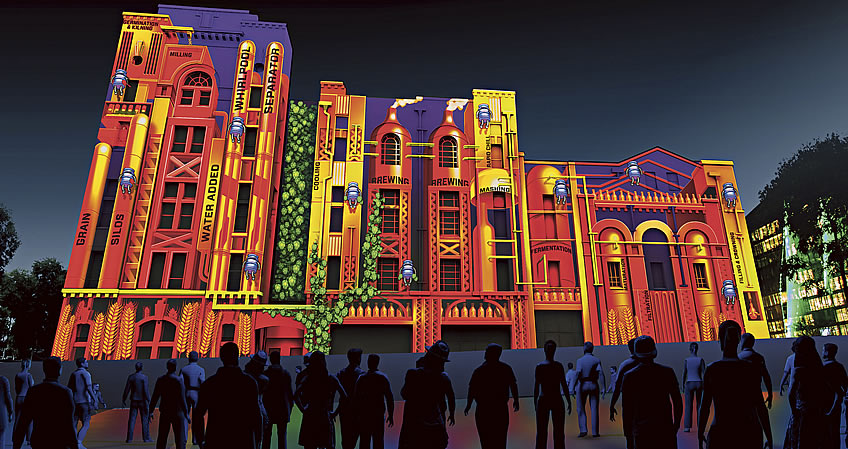 8.30pm

:
This urban village in Chippendale brings the funk for Vivid with a Silent Disco on Friday and Saturday nights.
Grab some headphones, select a beat (brought to you by one of three DJs) and boogie on down.
Face the music in a futuristic world where robots rise up.
Central Park's heritage-listed Carlton & United Brewery building is the backdrop for the awesome X Factory sound and light display.
The techno-themed show highlights how the former factory looked and explores the idea of intelligent machines replacing human labour in industry. It's man versus machine!
Freda's
9.30pm

:
Stop off for a night cap, or kick on till late at Freda's, a bar and creative space situated in an old warehouse in Chippendale.
You're likely to catch emerging artists, musicians and DJs here on a regular basis.
As an official Vivid music venue, the party will go on right through the festival.
Freda's musos will then go retro for three tribute nights paying homage to Sade (June 16), Tina Turner (June 17) and George Michael (June 18). And the best bit – the gigs are free!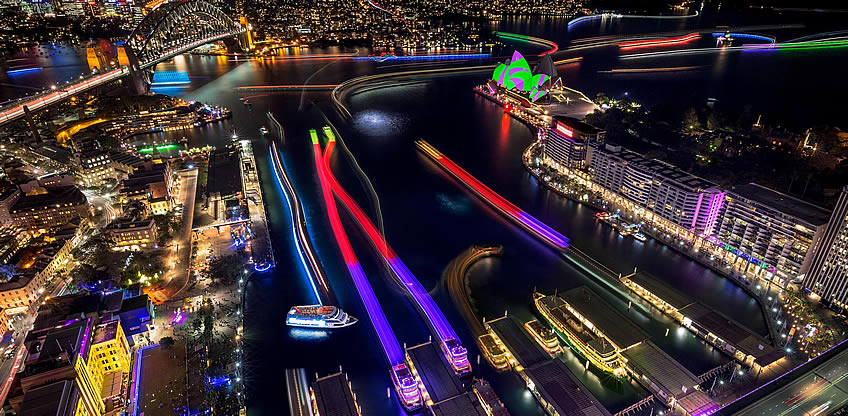 Y Hotels
Later that evening…
Ready to rest after all the colour and excitement?
Take the five-minute walk back to our City South residence.
Or if you're staying at our Hyde Park hotspot, it's only a 20-minute stroll or a short bus ride home.
You'll need a good night's sleep before day two of your mega Vivid weekend!
Day 2 – Saturday or

Sunday

night
The Rocks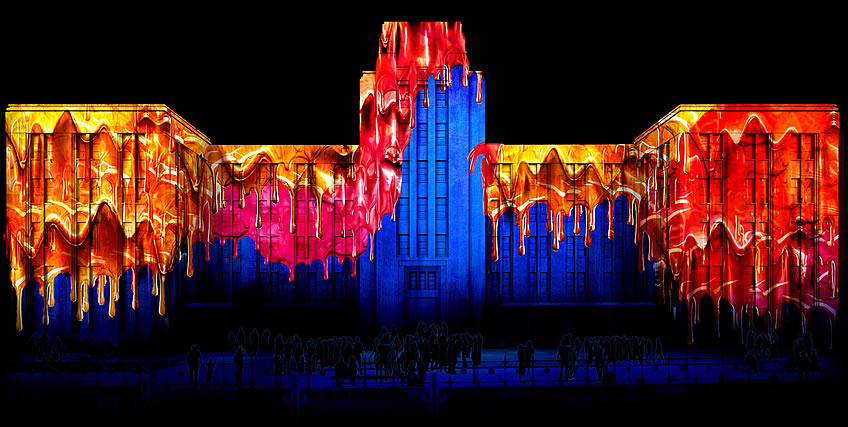 6pm

:
Watch art in motion, on what is no doubt one of the largest canvases you're likely to see, at the Museum of Contemporary Art.
The museum is the drawing board in The Matter of Painting.
Think lights mimicking paint that drips from the roof across the imposing sandstone building, as well as other artistic optical illusions, synched to a creative soundtrack.
It'll be a sight (and sound) to behold!
Check out more great art inside too as the museum stays open till 9pm from Thursday to Sunday during Vivid.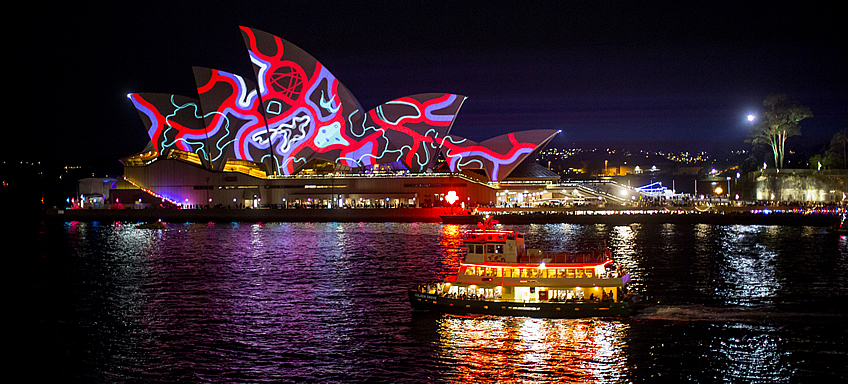 Circular Quay
7pm

:
As you leave The Rocks and walk towards Circular Quay, be sure to take a detour towards outer space … or to a rocket ship at least.
The 15-metre tall beauty dubbed the Light Rocket not only shoots laser light beams, it offers family-friendly light, mirror and sound-inspired fun.
Did we also mention it promotes the Starlight Children's Foundation's worthy work of supporting seriously ill kids and their families? Space helmets off to this mob.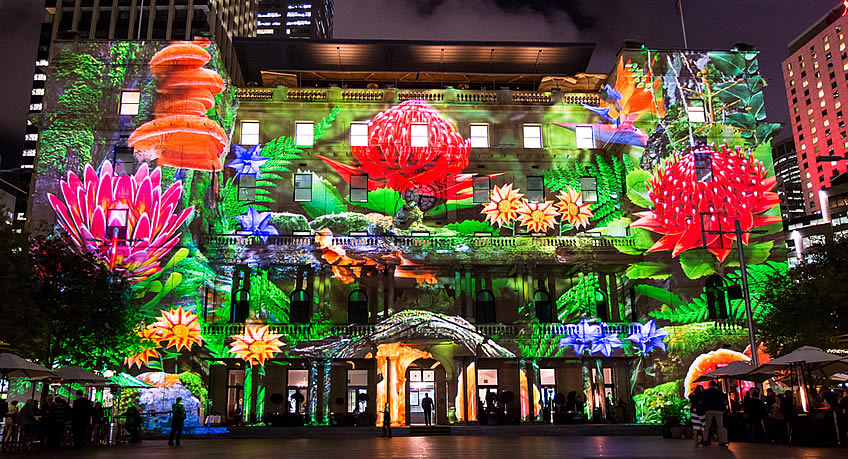 7.30pm

:
It's a fantasy-filled adventure, albeit with a serious environmental message, over at Customs House.
Head here to discover Sydney's Hidden Stories.
Like any good fairy tale, there's a moral message behind the wonder and whimsy.
In this story, an adventurous blue-tongue lizard acts as your guide through a landscape of warty witches and wizards, gnomes, tree people, sneaky snakes and cocky cockatoos.
The lizard's self-sustainable home awaits at the other end of the journey, complete with a green roof, vegie garden, wind turbine and solar panels, and a pedal-powered generator!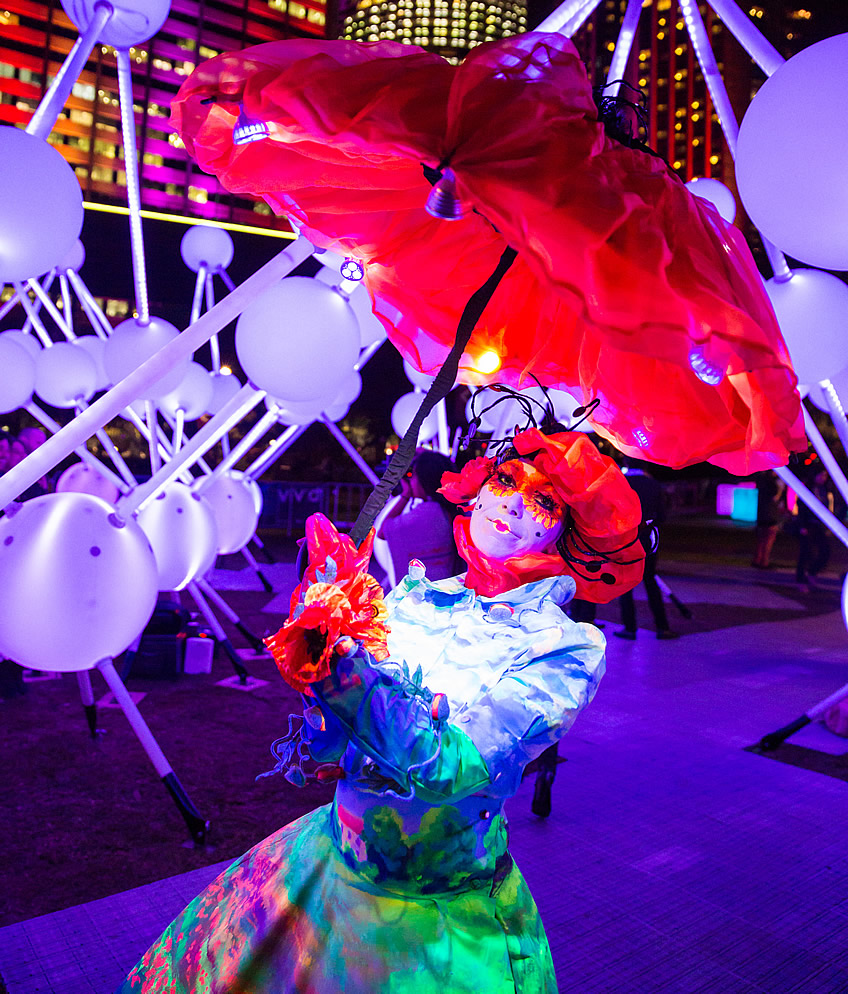 8pm

:
Hungry?
Take your pick from the smorgasbord of eateries smattered throughout Circular Quay.
Grab a quick bite, or linger over a luxurious dinner.
There's plenty of hip bars and night spots around the Quay and neighbouring The Rocks if you want to kick on.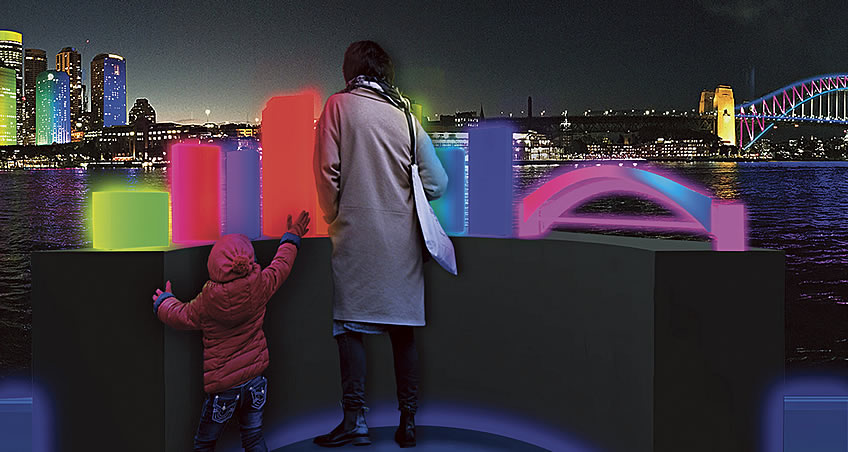 10.30pm

:
Before heading back to Y Hotels, have a last stroll around Circular Quay to take in the many glorious light installations dotted around the precinct and across the harbour, before the lights go out at 11pm.
And that includes on the water too, with boats donning coloured globes as part of the Harbour Lights show.
How will you make the most of Vivid 2016? Tell us in the comments section below.