A wee bit of storm damage couldn't stop the monoliths that make up one of our favourite Sydney events.
Yep, Sculpture by the Sea, Bondi, is back!
The Bondi to Tamarama coastal walk, newly repaired following storm damage, is rolling out the seaside carpet once again for the free outdoor sculpture exhibition.
From October 20 to November 6, the terrific trail turns sculpture park.
In honour of 2016 being the Bondi event's 20th anniversary year, here are 20 reasons why we love this Sydney institution: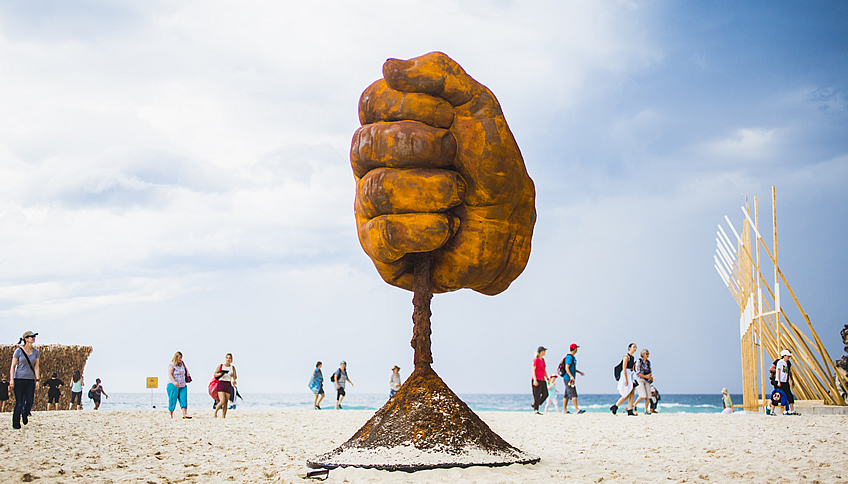 1. It's free
We love freebies. Who doesn't?
So when it comes to major Sydney events, with no price tag attached, we're like a moth to a flame.
With money saved, why not spend that spare cash on another night at Y Hotels?
2. It's turning 20
That's a major milestone for any event.
In this fickle age of fads, it's a testament to enduring awesomeness, not to mention public popularity.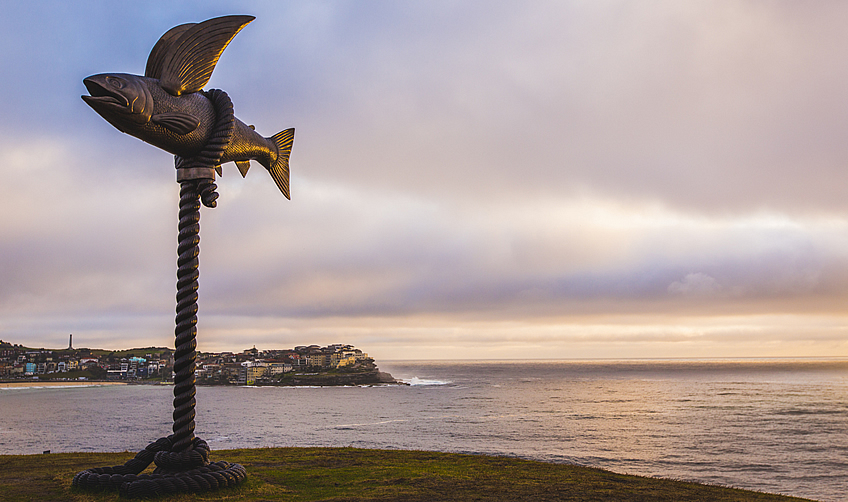 3. It celebrates the great outdoors
We're always boasting about the natural beauty of Sydney, especially our dazzling harbour and beaut beaches.
This exhibition shows off some of our best coastal assets from dizzying heights, set out along the spectacular Bondi to Tamarama coastal walk.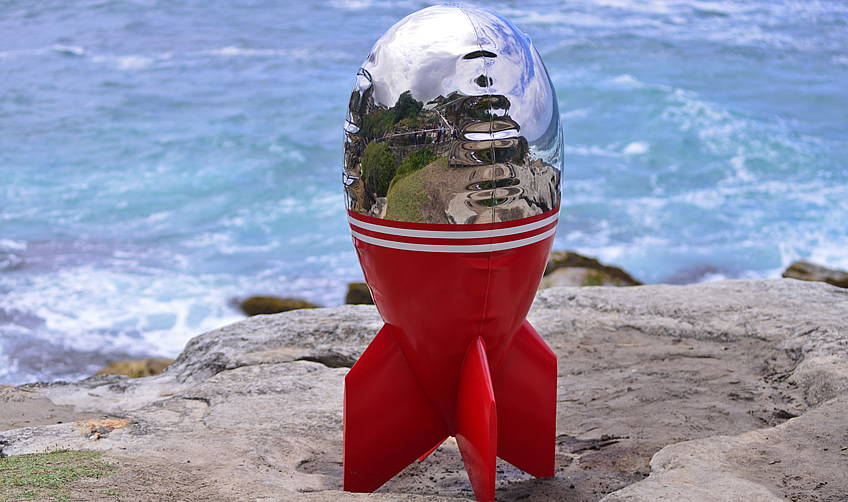 4. It makes art accessible
Visitors with a disability can make a sensory exploration of the sculptures in a guided tactile tour, while those who are blind or visually impaired can take an audio description tour.

5. It helps us get fit
A two-kilometre trek with plenty of stairs. Who needs a treadmill or a StairMaster?
We're getting a gym workout for free, with plenty of big, bold and bright visuals to distract us along the way.
But never fear, if just the thought of exercise makes you dizzy, Sculpture by the Sea organisers have come up with some easy walking routes whereby you can see almost all of the exhibition while avoiding most of the stairs!

6. It's got one of the best galleries in the world
Fresh air, sea views, enthusiastic crowds … who needs four walls?
At Sculpture by the Sea there's art and much more to explore!
7. It brings artists to the people
No recluses here.
The brilliantly talented types who've created the mega art on display are coming along to talk all about their inspiration and creative journey.
And the best bit: as an audience member you get to sit back and and relax in a comfy bean bag next to the artists' work!
The free Aqualand Artist Talks run every weekend, 11am to 3pm, with six daily sessions running for 10 to 20 minutes.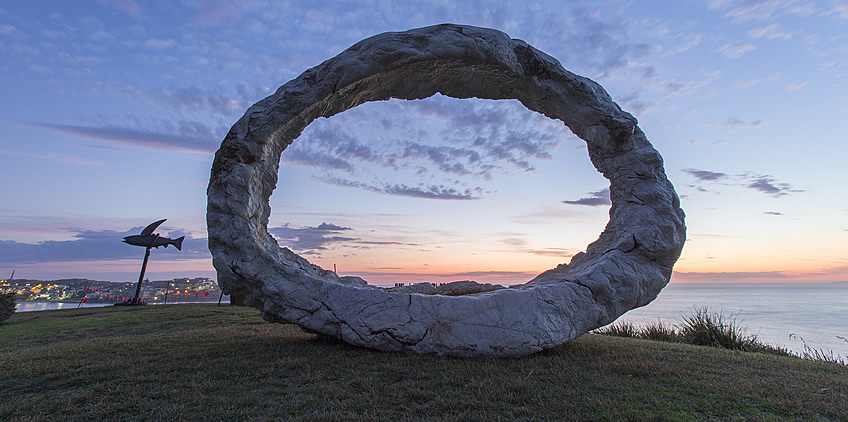 8. It's one of the largest of its kind
Organisers bill it as the world's largest annual free-to- the-public outdoor sculpture exhibition and with more than 500,000 visitors attending over 18 days, what could be bigger or better?
9. It's international
In addition to a host of homegrown Aussie talent, there's a swag of overseas artist's who've been lucky enough to snare a spot in the 2016 lineup – all the way from Asia, Europe, New Zealand, South America, UK and the USA.
Following the receipt of almost 500 submissions from 27 countries, making the final cut is real honour.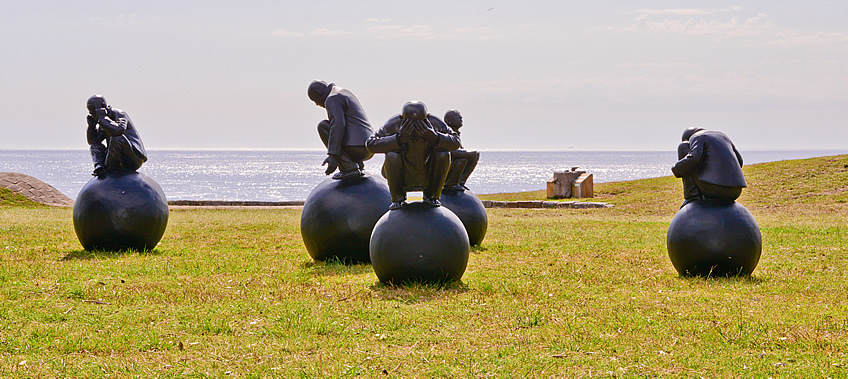 10. It's got more than 100 works
More than 100 works spread across two kilometres … we told you there was lots to see!

11. It's great for selfies
Sculpture by the Sea claims status as one of Sydney's most photogenic exhibitions, and it's easy to see why.
Major monolith or quirky creation with your smiling face in the foreground, beach and sea views behind.
Yep this outing is definitely pictorially brag-worthy.
12. It's bringing 20 of the best back
As part of the big 2-0 celebration, 20 Australian artists who have previously exhibited at Sculpture by the Sea have been invited to exhibit this year.
So if you've been before you might recognise the mark of the artist behind some of your favourite past pieces.
13. It gives emerging artists a leg up
As well as celebrating those who've made the exhibition great over the years, selected Aussie up-and- comers will get a chance to hone their craft with a $30,000 scholarship for travel, study and research.
14. It gives away prize money
One lucky artist not only gets the honour of showing their work, but 60 big ones to go along with it.
Yes, we do mean $60,000.
15. It's bringing a permanent sculpture to Sydney
As well as the $60,000 prize, the winning artist's sculpture will be placed for permanent public enjoyment in Sydney.
It's a win-win!
16. It gives visitors a free ride
OK, so there's the free entry, but there's a free set of wheels too!
Each weekend during the exhibition, you can hitch a ride in one of the courtesy fleet of vehicles ready and waiting to
transport visitors (free of charge) from one end of the sculpture walk to the other.
There's even baby capsules and booster seats for patrons with kids in tow.
17. It's got a mini-me exhibition
Great art's not just big and bold.
It can be small and exciting too!
Discover mini-me highlights at Sculpture Inside, a sideshow exhibition of sculpture by exhibiting artists and selected invited artists.
Check it out in the marquee in Marks Park, Tamarama, 9am to 5:30pm weekdays, 9am to 7pm on weekends.
18. It offers a chance to learn more
For serious art buffs there's a chance to dig a little deeper and discover – direct from international and Australian speakers – the importance, impact, challenges and opportunities of sculpture in public space.
The Sydney Sculpture Conference is happening on October 27 at the Sydney Opera House.
19. It's got places to eat
All that walking and art gazing is bound to work up an appetite.
So it comes in super handy that there are two cafes along the coastal walk where you can grab snacks and refreshments.
Stop in at The Grounds by the Sea in the hub of the exhibition or the Tamarama Cafe overlooking Tamarama Beach.
Try somewhere in Bondi from Sculpture by the Sea's bars, cafes and restaurants shortlist, or pack yourself a picnic.
20. It's in Bondi
Need we say more?
Not only is this one of our favourite beachside suburbs, not to mention a world-renowned iconic location, there's so much to see do and enjoy in Bondi.
Check out our You beaut beaches and Eat, drink, be merry posts for some of our leading highlights.
And if doubt, just hit the beach!
What do you love about Sculpture by the Sea, Bondi? Tell us in the comments section below.