In Sydney, lots of bus tour companies are ready to roll to places you've always wanted to visit.
Maybe you want to see locations where film and TV shows are shot. Perhaps you want to gaze long at postcard landscapes. Or maybe you have your heart set on insta-snapping Sydney's many jewel-like landmarks.
Bus tours are a moving window into exclusive views of the Harbour City.
At Song Hotel Sydney, many of them are close by but they'll take you as far as you need to go.
---
Home and Away Tour to Summer Bay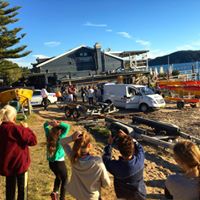 Some people think Sydney suburb Palm Beach looks a heck of a lot like Summer Bay, the fictitious town where enduring TV soap Home and Away is set.
Bus tour company Flamin' Galah Sydney Tours & Airport Transfers proves that these people are on to something. Flamin' Galah partners with Channel Seven to operate the Home and Away Tour to Summer Bay, which indeed takes place in Palm Beach. The bus tour reveals to fans the various outdoor locales around Palm Beach that helped make characters such as 'Flathead', 'Bobby', 'Pippa' and 'Alf' household names over the years.
Not that this tour is just for Home and Away fans. The views that unfold as the tour bus ambles around the scenic roads of Sydney's Northern Beaches are cinematic for anybody on board.
For hardcore fans of the show however, expert guides are there to reminisce about famous scenes at different spots.
If cast members are on location when you arrive, they're known to oblige with selfies. But if they're not, Alf's Bait Shop and the Summer Bay Surf Club aren't going anywhere – and nor is Alf, history suggests.
---

Big Bus Tours
Big Bus Tours is an international tour company with signature open-top double-decker buses. In Sydney, you can take two different routes for high-up sight-seeing experiences – or you can take a combination of both. The City Tour crams in scores of Sydney landmarks and the Bondi Tour is a beachier experience stretching out to Sydney's Eastern Bays.
One of Big Bus Tours' drawcards is the flexibility and independence it offers its guests. Buses stop dozens of times as they wind across both circuits. For those who want to hop off to spend more time at destinations such as the Australian Museum, the Sydney Opera House or Darling Harbour, double deckers swing by every 15-20 mins and you can get on and off as many times as you like.
If you want to watch Sydney exclusively from the unique vantage point of the bus however, there's plenty to see on the 90-minute tour. The company headphones the company supplies are loaded with pre-recorded commentary that delivers an entertaining educational tour experience too.
---

Free Tours Sydney
Free Tours Sydney (it actually costs $17 for the bus tour) doesn't require bookings. Instead, you beeline to Hyde Park's Archibald Fountain and keep your antennas fixed for a guide in an orange tour t-shirt.
It's first-in, first-served, so there's an incentive to be early. But once you board the air-conditioned bus, the fun begins. KingsCross, Watsons Bay and Bondi Beach all feature on the three-hour tour.
There are stops to learn more about lesser-known spots of Sydney and to capitalise on scenic photo opportunities. Having a knowledgeable tour guide on board, too, enriches the meaningfulness of each awe-striking destination.
---

Sightseeing Tours Australia
Sightseeing Tours Australia, a family-owned and operated tour company established in 2012, specialises in Blue Mountains tours, Sydney city tours and Hunter Valley winery tours.
On the Blue Mountains Day Tour, one of the company's featured day-long tours, guests board the bus from a range of inner-city pick-up points and the the Blue Mountains does the rest of the work.
It's hard not to fall giddy when you're immersed in the scenic immensity of towering cliffs and vast wilderness. The epic natural beauty on display on this tour is experienced at a range of mesmerising locations including Evans Lookout, Wentworth Falls and Katoomba Falls.
You'll have the chance to tour atmospheric little towns and hear your tour guides' enthralling accounts of the location's backstory.
---
AAT Kings Manly and Beyond Tour
AAT Kings' half-day Manly and Beyond Tour is a relaxing ride around Sydney's northern beach suburbs. Your itinerary includes visits to or through numerous popular sites including the Sydney Harbour Bridge, Milsons Point, North Head and, as the tour suggests, Manly Beach.
The bus driver on your comfortable coach overlays the rolling scenery with knowledgeable commentary about Sydney.
By the time you coast into Manly Beach, it's a good time for brunch at a cafe along the Corso and it's a good time to stretch out on the white sand too.
If you still have energy reserves by the time you wrap your exhilarating morning, AAT Kings also offers tour add-ons. On the Manly and Beyond Tour, it's pretty hard to overlook the idyllic serenity of a Sydney Harbour lunch cruise.