Graffiti. Street art. Often the two are only distinguishable by legal status. In Sydney however, there is certainly plenty of support for spray-can artists. The lucky ones are commissioned to paint the streets and some are travelling the globe to do so. Of course, Sydney's public art scene comprises more than just murals. Sculptures, installations and building features themselves are just some of the mediums through which artists give the city its expression.
Many of the art works you'll find in Sydney are well-known globally and internationally. If you're staying at Song Hotel, here are four of them you can check out to enhance your visit.
---
In Between Two Worlds
Kimber Lane used to be a more disquieting alley, better known for its garbage than its art. But if you find yourself on a night out in Sydney's CBD today, it's well worth the beeline.
Australians artist Jason Wing's In Between Two Worlds is the centrepiece of the alley today. It's a mix of etched-in floor mural clouds, wall mural clouds and 30 suspended spirit figures that glow blue in the night. Wing, who has a Chinese father and Aboriginal mother, is known for his exploration of bi-cultural and Indigenous identity politics, environmental awareness and spirituality.
In Between Two Worlds draws inspiration from both Chinese and Aboriginal heritage and explores heaven and good luck. As you tilt your head up, you'll get to enjoy how the confines of the alley enhance the evocative power of the otherworldly spirit figures watchfully afloat above you.
---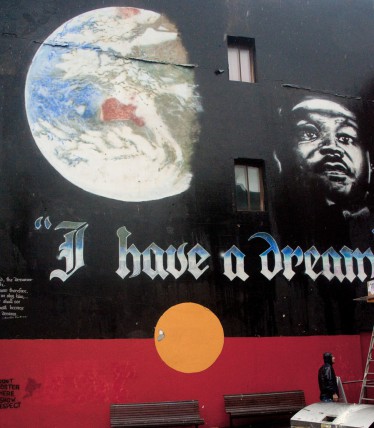 I Have A Dream
You're probably familiar with the iconic Martin Luther King Junior speech I Have A Dream. But the I Have A Dream mural (which references the speech) is a Newtown icon in its own right.
Juliee Pryor and Andrew Aiken made the gargantuan mural illegally over a few nights in 1991. It was heritage listed by Marrickville Council in 2014 and it's also an inextricable talking point today because Aiken made it a year after he murdered a busker he shared a London squat with in 1990 (he was only imprisoned after he confessed in 1996).
The awe-striking piece, which has withstood racist attacks from skinheads and morphed to include an Aboriginal flag in its mostly stark-black backdrop over time, is a predecessor to a variety of murals that have since popped up in Newtown, each heightening the neighbourhood's spirit of activism.
Visiting this King Street favourite sets the tone perfectly for a wider tour of Newtown's edgy street art.
---
The Distance of Your Heart
Some birdlife is considered a health issue in Sydney – but not this lot. All 67 of these birds are made out of bronze, rather than feathers.
The Distance of Your Heart is the sculpture of confessional British artist Tracey Emin. Emin has handcrafted all 67 birds as hybrid species to reflect Australia's migration history.
You'll find the little winged statues in all the places you might find real birds – including seats, window sills and doorways – as you walk around Bridge and Grosvenor Streets in the city centre.
It's also worth taking note of the thematically pregnant art as an example of why public art needn't be maxi-sized and grossly over budget to be powerful.
---

Waiting
The cool thing about this lifelike public art is that it doubles as a seat and, let's face it, company.
US artist Seward Johnson, who is known for his curious bronze statues, created this bronze statue for Australia in the 1980s. It's a depiction of a quintessential businessman reading a newspaper (hilarious) with his briefcase and hat eating up the bench space next to him.
Waiting is your cue to visit Australia Square, sit down next to the bronze man and watch passers by as you become a part of the art.
In doing so, you'll be showcasing how life can imitate art and art can imitate life all at once.