The Missy Higgins Room
Missy Higgins is a five-time chart topper and nine-time ARIA Award winner, with songs like Scar and Steel defining her career as an Australian pop singer, songwriter, and actress. Alongside her music career, Higgins pursues interests in animal rights and the environment, endeavouring to make her tours carbon neutral. Higgins has also supported campaigns for refugee rights and is an ambassador for the Asylum Seekers Resource Centre.
The Missy Higgins room is a cosy escape from the city with warm Moroccan tones, colourful music inspired watercolours by the talented Mishy Rowan from the Bluse Mountains and a stunning Tetyana Khytko crouching ballerina artwork. Try out your inner acoustic goddess with the in-room guitar, while surrounded by YWCA's Janet Kingstons homegrown cactus' and overlooking our lush atrium. YWCA's own Popi Zografakis and her 8 year old daughter Olive also designed and painted the in room crockery.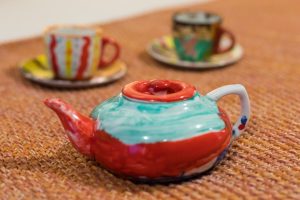 Please call us on +61 2 9285 6200 to book one of our theme rooms.
---
Bluethumb Artwork For Sale
All of the artworks that Bluethumb has supplied will be for sale in the hotel. Any guests wishing to further support the YWCA can simply scan the QR codes on the artwork's label and easily "add to cart". A percentage of proceeds from each sale will go towards the incredible work that the YWCA does for women, children, young people and the community.
---
Mishy Rowan
Mishy Rowan is a Blue Mountains artist who developed her intuitive, meditative technique out of a desire to surround herself with colour after being stung by a poisonous caterpillar in India (true story). Explore more of her colourful work
here.
---
Tetyana Khytko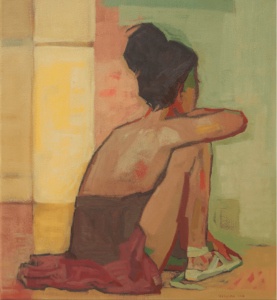 ​​Tetyana is a Ukrainian-born, Sydney based painter. Roads, bikes, sails, birds and other objects in her paintings have symbolic meaning. Tetyana likes discovering new objects with "meaning" to use in her works, like a poet uses allegories.​​ Check out more of her art
here.
Check out
@missyhigginsmusic
@bannerama
@amyblueillustration
@bluethumbart
Don't forget to tag #CelebratingWomen #WePavedTheWay #MissyHiggins #YWCA and #Songhotels if you take any snaps in the room!
---
Love the Missy Higgins room?
Explore our other theme rooms:
---