The Sally Rugg LGBTIQ Pride Room
Activist and campaigner for LGBTIQ rights Sally Rugg rose to national prominence for her role in the fight for marriage equality in Australia as campaign director for citizen-powered organisation GetUp!
Rugg was a finalist for the Honour Awards Young Achiever Award in 2015, was named among the 23 LGBT Australians to Watch in 2016 by SX Magazine and the Top 40 Under Forty by TimeOut and won the New South Wales Honour Awards Young Achiever Award in 2016. As well as being a public face of the "Yes" campaign in the Australian Marriage Law Postal Survey she has campaigned for Safe Schools, speaks regularly at public events and volunteers with the Twenty10 service for LGBTIQ youth.
Features of The Sally Rugg LGBTIQ Pride Room include rainbow and trans pride flag wall graphics, YES pillows, rainbow dress up scarves for vouge inspired selfies and Oxford St people watching couch.
Bluethumb Artwork For Sale
All of the artworks that Bluethumb has supplied will be for sale in the hotel. Any guests wishing to further support the YWCA can simply scan the QR codes on the artwork's label and easily "add to cart". A percentage of proceeds from each sale will go towards the incredible work that the YWCA does for women, children, young people and the community.
---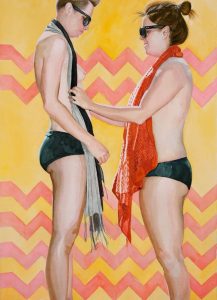 Kim Leutwyler
Born in America, Sydney-based Kim Leutwyler migrated to Australia in 2012. She works in a variety of media including painting, installation, ceramics, printmedia and drawing.Kim's current work takes its form in paintings dealing with images of beauty, gender and Queer-identity. She has come to focus on painting as a medium because of its primarily masculine history in the western art canon. By entering into the modernist painting field Kim hopes to destabilize gender borders just as LGBTQ artists have been doing since the 70's and earlier. Leutwyler's recent accolades include being selected as a finalist in the Archibald. To browse more of Kim's artwork and buy some you can see every day on your own wall check out more of her work here.
---
Featured Artwork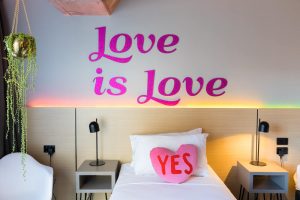 Doodad+Fandango is the plastique fantastique jewel in the Australian wearable art crown, creating distinctive, colour-pop statement pieces that adorn creatives, kooks and couture-lovers across the globe. Designer and jeweller Nikita Majajas has been exploring renegade aesthetics since the 90's as a fashion designer, shoe-maker and costume stylist specialising in outrageous self-expression, explosive colour and highly playful forms.Nikita Majajas has been a huge supporter of the Singing the Praises of Inspirational Women project and designed, made and donated the Love is Love artwork in Sally's room as well as the feminist symbols you can find in the Song Hotel Lobby. To order some of her incredible jewellery or explore your own customised ideas visit her website here.
---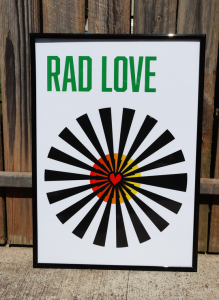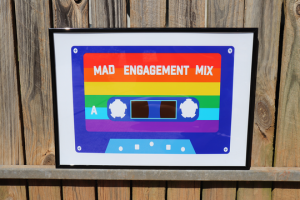 Chris & Julz and the idea to start Two Brides Presents came up in 2015 when they were married in Hawaii. They were starting their new life together as wife & wife and found a lot of their friends had difficulty finding any good, relatable, funny, cheeky, naughty, soul loving, lovey dovey same-sex friendly greeting cards so they decided to make them! All their paper is also sourced from Australian suppliers and makers. Two Brides Presents kindly donated the "
Rad Love"
print featured in Sally's room as well as the "
Mad Engagement Mix"
print in the lobby. To check out more of Two Brides Presents creations visit their
website
.
Check out
@sallyrugg
@carlosbob (Kim Leutwyler Artist)
@DoodadandFandango
@Twobridespresents
@amyblueillustration
@bluethumbart
@bannerama
Don't forget to tag #CelebratingWomen #WePavedTheWay #SallyRugg #YWCA and #Songhotels if you take any snaps in the room!
---
Love the Sally Rugg LGBTIQ Pride room?
Explore our other theme rooms:
---